GCSE Resources and Tools
Revising for your GCSE exams is always a stressful time. So, anything you can do to make your life easier as you prepare for your exam is invaluable! With GoConqr you've found just that! We offer unique tools to help you create GCSE resources that will aid your GCSE exam revision. You can then keep track of what you've studied and what you still need to achieve with our goal setting GCSE Resources.
Best of all is that when you study, you are not alone! You can share your resources with your friends or join a GCSE group, so when we say your GCSE revision has gotten easier we mean it!
Let us introduce you to our GCSE Resources  – you will become familiar with how they work, browse through some of the great GCSE Resources that are already available and then start creating some of your own. You'll find lots more free Resources in the GoConqr public library and targetted GCSE Revision courses in the GoConqr Marketplace.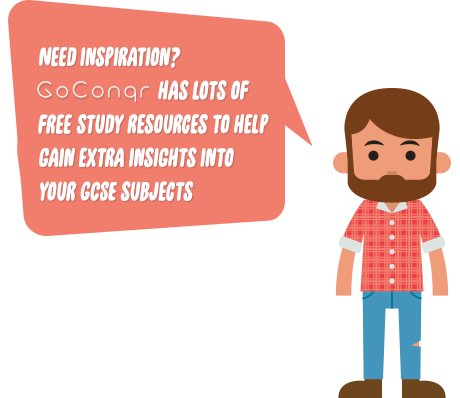 Mind Maps
Our Mind Map tool is one of the best GCSE resources to revise for the exam. Whether it's English, Science or any other GCSE subject, students are already using GoConqr to do better in their exams.
Using Mind Maps to study you can:
Outline and plan essays
Dissect novels, plays and poetry
Create an overview of your subjects or syllabus
Brainstorm ideas alone or with classmates
Check out some of these sample GCSE Mind Map Resources that students have already created on the left.
Sign up to Create Mind Maps
Flashcards
Our Flashcard tool is great for memorising. So it's perfect for GCSE Maths, learning a language or revising for Science as you can memorise formulas and equations, vocabulary or quotes. Develop your memory skills by using trigger words or symbols. GCSE Flashcards can help you:
Improve your long-term memory
Engage your brain in active recall
Learn key facts, vocabulary & quotes
Learn on-the-go with your mobile device
Share your knowledge with your classmates
You can hide the cards you already know and focus on what you still need to learn. Check out some of these sample GCSE Flashcard Resources students have already created.
Join GoConqr to Use Flashcards
Quiz Maker
Our Quiz Making tool is ideal for all GCSE subjects as it allows you to test yourself and your friends on what you've already revised. Students everywhere are using the GCSE Quiz resource to gauge how much of their GCSE courses they already know and how much more work they need to do. Start using the GCSE Quiz maker today to:
Practice different exam questions, types and styles
Quickly test your understanding of a topic
Be confident you know your GCSE material
Refresh your memory on the day of an exam
Challenge your friends by sharing Quizzes
Check out some of these sample GCSE Quizzes that students like you have already created.
Sign Up Here to Create Quizzes
Slides Maker
The GoConqr Slides Maker is the perfect tool for creating GCSE learning summaries. Summarise the key points of each subject in one format for a global view of a specific GCSE topic or subject.
The Slides maker tool helps you create a complete GCSE resources. Start creating your Slides now to:
Organise content and have it in one place
Make them visually appealing with multimedia elements, including video and PDF
Insert GoConqr resources, adding more value to your Slides
Bring your content to life with various themes and templates
Check out some of these sample GCSE Slides that students have already created using GoConqr.
Join Now to Create Slides Online
Notes
The days of writing and taking reams of notes are well and truly behind us. With GoConqr Note making tool, you can keep all of your GCSE Notes safe online. Whether its your lengthy GCSE English poetry section, Geography, or History, digital Notes can make your life much easier. Create your GCSE Notes online today.
Organise your study notes better than ever
Introduce multimedia such as images and video to your notes
Say goodbye to binder loads of printed study notes
Mould your notes to suit how you work
Check out some of these sample GCSE Notes that students have already created using GoConqr.
Join Now to Create Online Notes