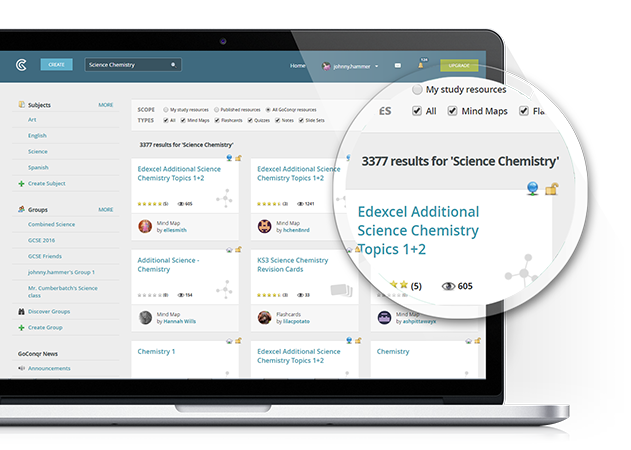 An Extensive Online Library
Millions of free, user-created learning resources.
When you join the GoConqr learning community you not only receive free access to a suite of online tools for creating study material, you also get access to a vast repository of user-created learning content covering just about any topic you can think of.
Some benefits of GoConqr Online Library:
Easily find the learning content you need in any subject, at any level
A variety of content types to choose from
Discover and share material with other learners in GoConqr Groups
Have relevant learning resources suggested just for you
Take me to the library
Content Search, Content Suggestion
Your gateway to a world of knowledge.
When you create an account we will show you personal library filters based on your profile and learning interests.
In addition you can find further learning content on GoConqr simply by entering your search terms in the Search field and hitting enter. Doing so will instantly retrieve an exhaustive list of results, which you can further filter by resource type.
Easier still, GoConqr also makes content suggestions based on your user profile so that every time you log in you'll already have great learning resources waiting for you on your activity feed.
Visit GoConqr Online Library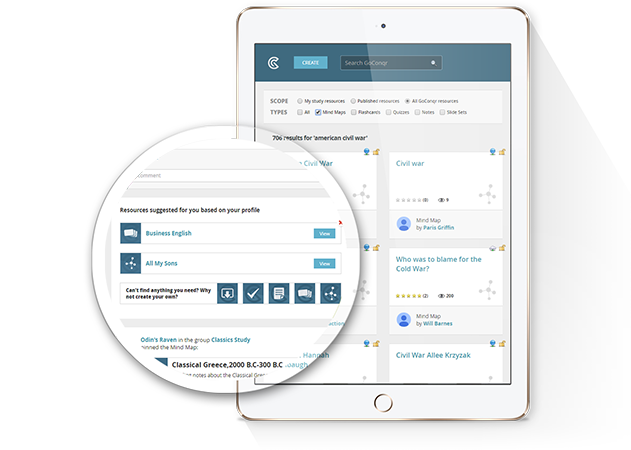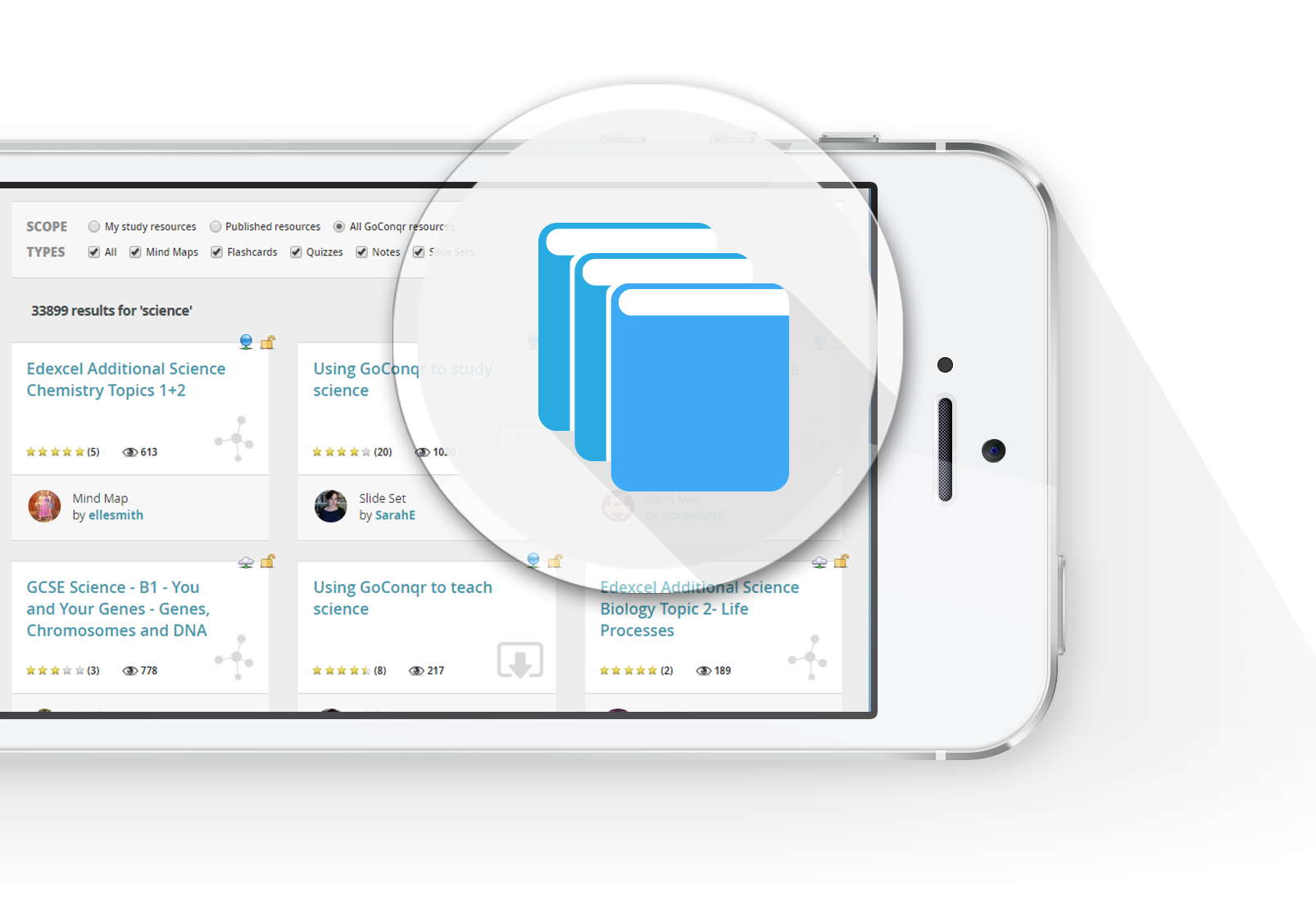 Varied Resource Types
Different kinds of content for different kinds of learners.
There is no one-size-fits-all approach when it comes education. Some learners work best by reading through notes while others prefer a more visual approach.
With an extensive virtual archive of resource types including Mind Maps, Slides, Flashcards, Notes, Flowcharts and Quizzes, GoConqr Online Library offers something to suit all learning styles. What's more, different resource types can be incorporated and used together to create a more complete learning experience.
Create My Free Account
Sharing in Groups
Discover more by connecting with a global learning community.
With so many resources in the Online Library, finding what you want can seem a little overwhelming at first. But it needn't be, because you can always rely on GoConqr's learning community to help you out.
GoConqr Groups lets users from around the world connect for true peer-to-peer learning. Discover, share and study with users just like you, studying the same topics and preparing for the same exams.
Rate, pin, share and comment on the resources you use and have other users do the same for you – the more you actively contribute to the learning community, the richer and more rewarding it becomes.
And if you needed yet another reason to get involved, know that each of your interactions with GoConqr's learning content will allow us to deliver even more personalised content suggestions directly to your personal activity feed.
Find A Study Group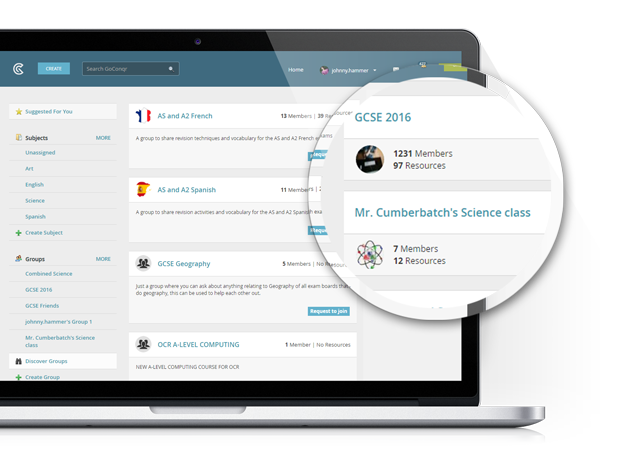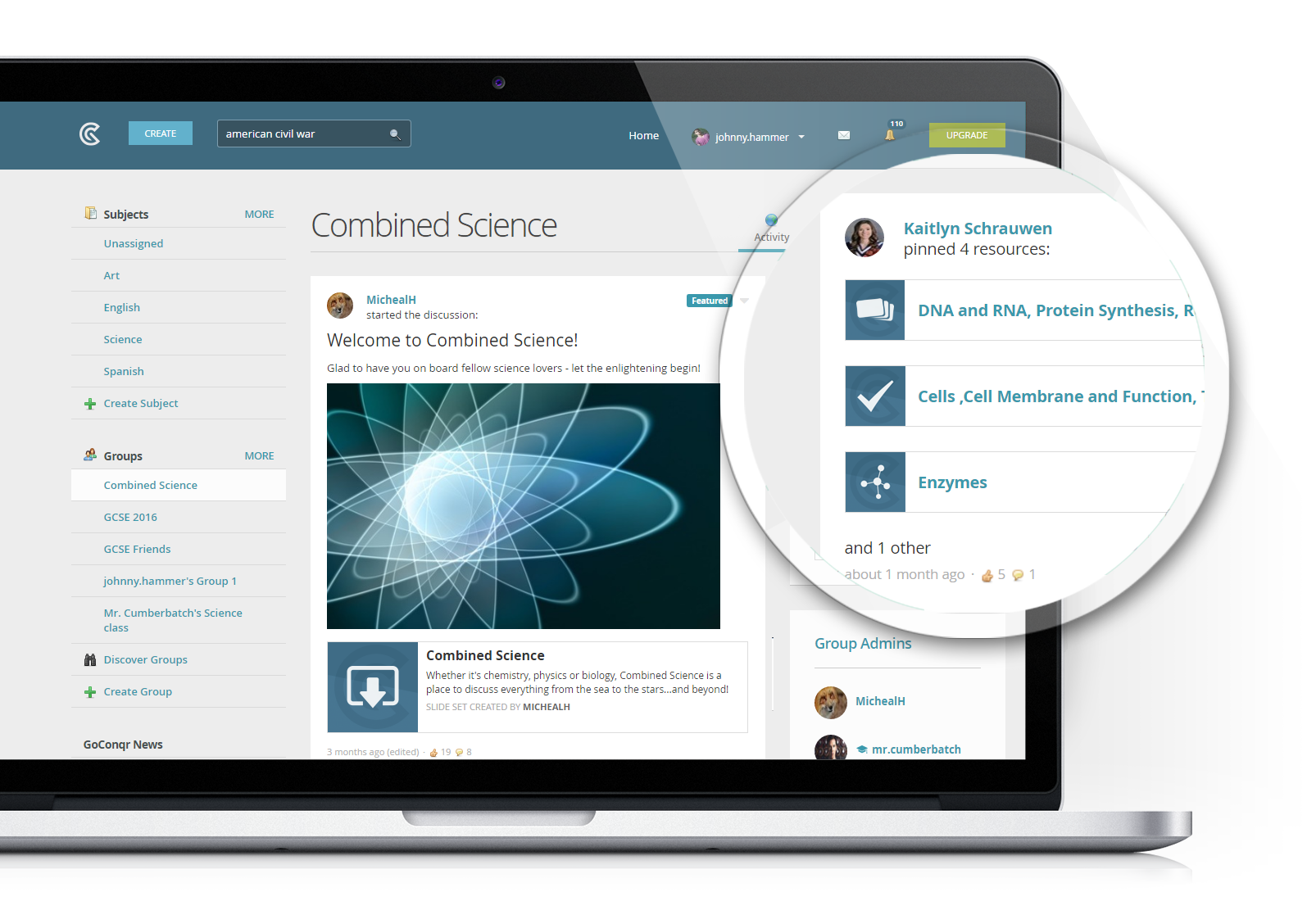 A Growing Collection
Find content that's relevant, useful and new every time you log in.
If all of the resources on GoConqr were stored together in a physical space it would need to be more than 600 times the size of the Louvre museum to display them all.
And because more users means more resources are being created, GoConqr's virtual library is expanding every single day. You can easily add your own content to the Online Library by making the resources you create public so that other users can view or share them too. With such a large number of GoConqr registered users -almost 4 million- you're likely to find people who are studying exactly the same as you. Therefore, in most cases you can find the resource you need in minutes and a single click away.
Start Creating Now