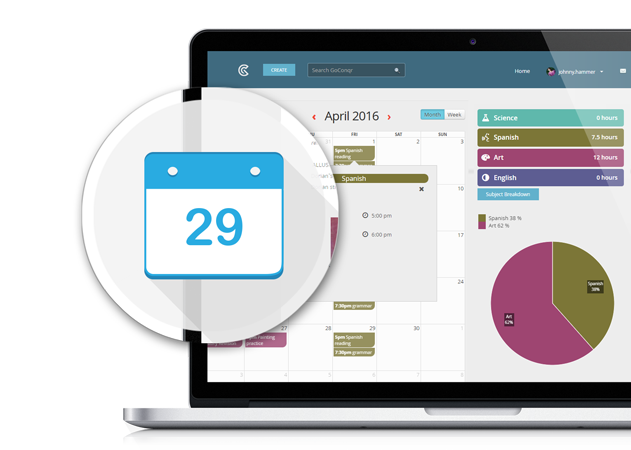 Prepare Your Study Strategy
Create a study schedule and take control of your learning.
Success rarely occurs through accident or good fortune. It takes time, planning and dedication – particularly so when it comes to achieving study goals.
GoConqr Calendar has been specifically designed to meet the needs of learners and educators, giving them a Study Planner that they can use to better organise their time and maximise their learning.
Some benefits of GoConqr Calendar:
Create, manage and track tasks for a more cohesive learning experience
Develop your learning in key areas by allocating time to particular subjects
Establish an effective study routine by scheduling events on your Calendar
Gain insights into study effectiveness by tracking time spent on a subject or topic
Create Your Study Plan Now
Improve Time Management
Spend your time doing what's important.
When it comes to learning that is directed towards a particular exam or test, time is important and procrastination is the thief of time! Use the GoConqr study planner to beat procrastination and get the work done. The benefits of having a set study schedule are immense. You don't need to study all the time – your schedule should include breaks for refreshment, rest, and exercise – the study planner can help you make sure you balance these elements alongside your revision timetable to create a healthy study routine.
Once you understand your study habits, you can then work on finding a better balance, adapting your plan and allocating the time needed to achieve your study goals – even in the subjects you find most challenging.
Create A Study Schedule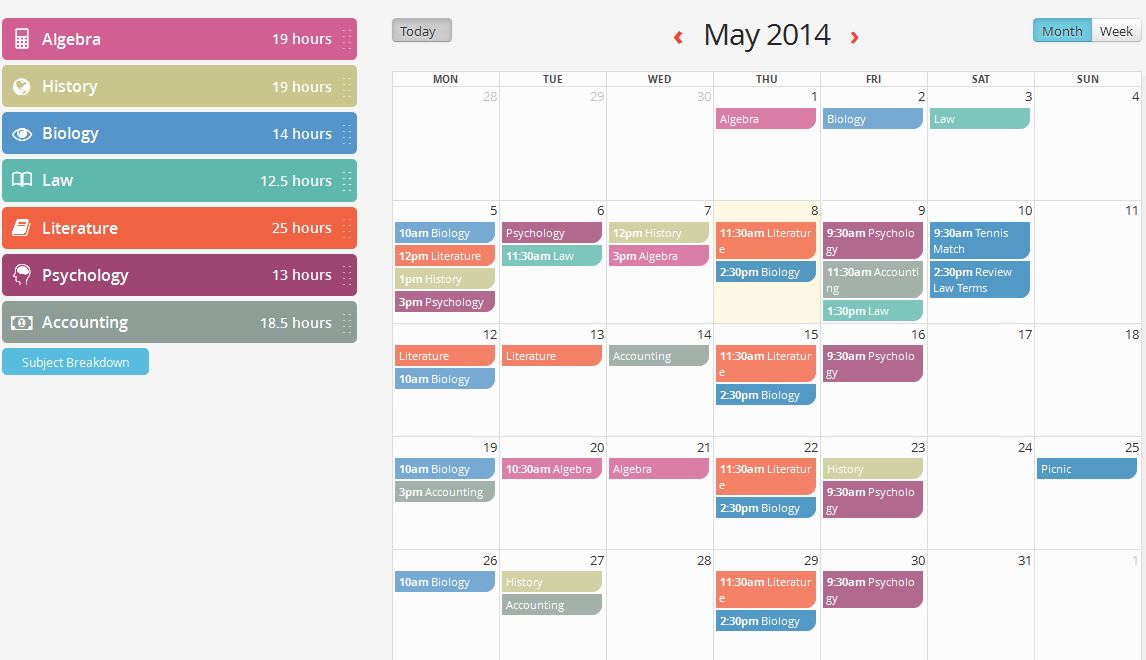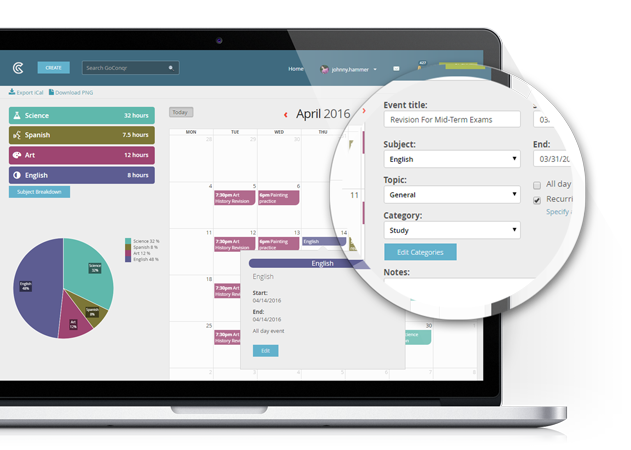 Set Study Goals
Create a plan, stay motivated and feel confident.
Knowing how to prepare a plan before a big exam or project is a valuable study skill to have.
It means you can approach even the most intimidating obstacle with a cool head because you know how to break it down into more manageable chunks. Also remember to check your progress at regular intervals. In this way, you will avoid feeling overwhelmed by the workload and you will be able to focus on the tasks that appear in the study calendar.
The more you prepare, the more your confidence and chances of success will increase.
Achieve Your Learning Goals
Track Your Progress
Get insights into what's getting results.
The best way of knowing whether your study plan is effective or not is by keeping track of how you are performing in certain subjects over time.
GoConqr lets you see how helpful your study planner has been by giving you a complete overview of your performance in Quizzes including number of attempts, time taken and scores achieved.
You can then use these insights to analyse and optimise your study strategy to make sure you're making the most of your resources to get the best possible results. It's easy to keep track of how much time you are devoting to each task with our subject breakdown.
What are you waiting for? Creating an online study schedule with the GoConqr Calendar is the first step to achieving study success.
Optimise Your Study Time