Many students and teachers join GoConqr so that they can start creating their own learning resources and use our online tools to bring the concept of active learning to life. But there's so much more to do. In this week's blog, we're going to focus on how you can easily access valuable user-generated study material for any subject or exam level.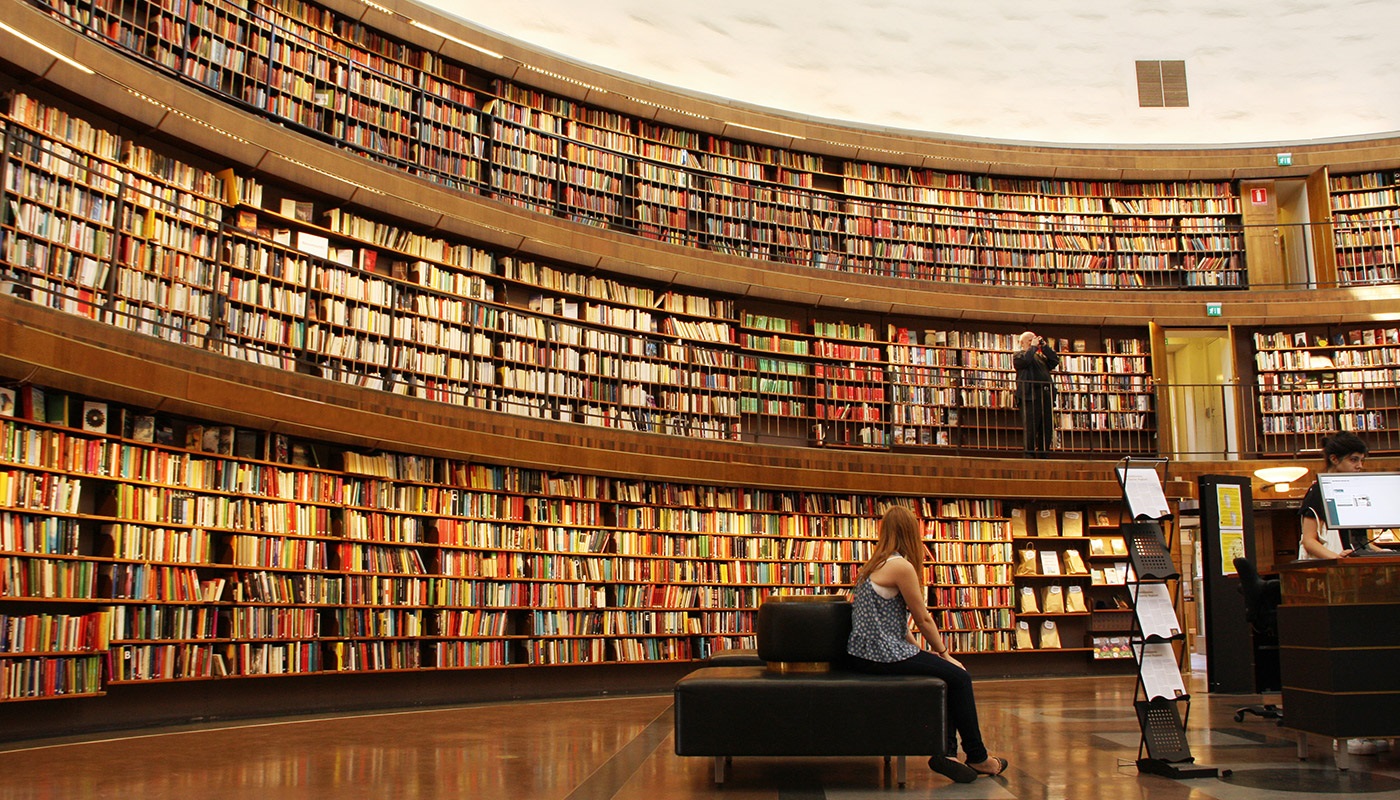 Whenever you create and publish a Mind Map, Slide, Quiz or any other type of resource on GoConqr, your work is stored in our digital Library (unless, of course, you choose to publish it privately).
This library currently holds over 4 million user-generated learning resources. They cover just about every subject and topic you can think of – at various levels of expertise – and they're available to all other users for free.
You can use this material however you want: you can view it to teach or study or to get some ideas and inspiration. Or you could copy and edit resources so that they suit your specific educational needs.
Accessing GoConqr's Learning Resources Library
Ok, so how do you get your hands on all these great learning resources? Well, there are 4 main options by which you can access the library of learning resources.
1. Suggested for You
The easiest way of finding relevant resources is by using the 'suggested for you' feature, which was designed to help personalize GoConqr in order to meet each user's individual requirements.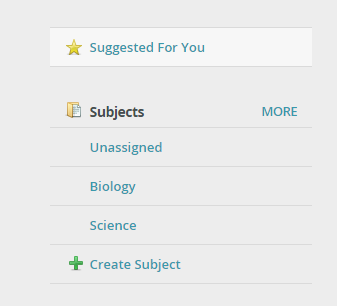 By using the information you provide (for example, telling us if you are a teacher/student/professional, what your level of study is, the subjects you take, etc.), our system tracks all the resources that are currently in the GoConqr library and presents those that are of most relevance to you.
If any of the suggested resources do not line up with what you're looking for, simply click on the 'x' in the upper right corner and a new resource will pop up in its place.
2. Search
If you'd like to take a more hands-on approach to finding resources, you can use the search bar at the top of your dashboard instead. This is your gateway to the entire range of learning resources in the GoConqr Library.
To start, simply enter your search terms and select the boxes to filter your results based on resource type.
Using search in this way gives you greater control when it comes to specific items or topics. Indeed, when using the search, it is probably best to be as specific as you can. The reason for this is that using very general search terms is likely to yield a high volume of results.

For instance, say you put the world 'science' into the search box and select all resource types you will get 27, 954 results (and this number will only increase as resources are added continuously). Obviously, this is far too many to go through in order to find what you're looking for.
The way around this is to make sure that you enter a more specific search term – such as 'cold fusion' – then further refine your search by restricting results to Mind Maps only. The search will yield a much more manageable number of relevant results (74 at last count!). These will be ranked according to popularity and/or user scoring, with the most popular and highest quality resources appearing first.
NOTE: The result numbers mentioned here are accurate at the time of writing this article. These may vary over time as further resources are added.
3. Subjects
Another way of filtering resources is by subject category. To do this, select the 'subject' located just under the search bar on your dashboard. Next, select a subject category. You can now access suggested content in your chosen subject by selecting the 'suggested' icon (the star) in the top right corner.

As before, you can substitute any irrelevant suggestions by clicking the 'x' button in the top right of a selected resource.
4. Related Resources
To go even further, you can also choose to view content that's similar to any individual study resource.

In this case, the system considers the tags that are attached to the resource you are viewing and finds other resources with similar labels. This option will also allow you to access other study resources created by the same author.
NOTE: For the suggested content to work properly, we recommend that you complete your profile.
How to Save Training Material
Once you have found resources that are of interest or value, you may want to keep them for later viewing. You can do this by pinning resources into relevant subject categories. Simply select the "action" button and select 'Pin' from the pop-up menu.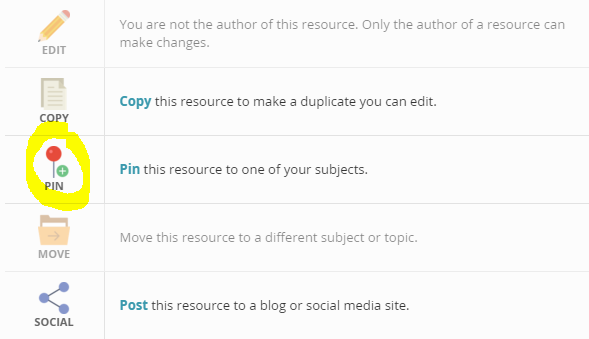 Alternatively, you can also copy a given resource and edit it to suit your own needs. Simply click on resource you'd like to copy and select the 'copy' icon in the top left corner. Once the pop-up appears, select a relevant subject category into which to send the copy.
Hopefully you now have a better understanding of how you can use GoConqr's features to find some of the great teaching materials that have been created by other GoConqr users.
If you're not a member of our learning community yet, what are you waiting for? Sign up now for free.