Franchising is a great approach to scaling a business; when your product or service has already found a successful niche in a market, it's natural to look for ways to take full advantage and seek to continue your organizational growth. However, delegating your company's brand management to remotely located franchisees may cause some concerns. Don't worry. These doubts are logical and understandable; all franchisors have gone through this stage of uncertainty about how to operate a franchise. To help reduce these concerns and give you the reassurance that you succeed, we've identified 6 steps to franchise your business successfully.
How do I franchise a business successfully and safely?
Franchise a business successfully requires a long-term strategy to ensure that the entire process is carefully controlled and the risk of failure is minimized. In order to scale successfully, nothing should be left to chance:
1. Is your business prepared?
Starting a franchise is a huge step, so, first of all, you must make sure that your business is able to make the leap by having the necessary resources to meet all future obligations. We recommend that you ask yourself the following questions and evaluate – with honesty – if your company is prepared for franchising:
Are the initial investment requirements for franchisee candidates feasible to afford (for franchisees) and realistic for profit generation (for your company)?
Are you prepared to make long-term business agreements about your company brand with other people?
Do you have the resources to provide initial training to franchisees?
Does your company offer unique products or services that differ from the competition in the sector and solve a defined consumer need?
Do you have qualified management to assume the responsibility of supervising a franchise operation? If not, are you willing to invest the financial resources necessary to recruit qualified managers?
Are you prepared to invest the funds needed to create and maintain a successful franchise system? This includes the creation of operation manuals and procedures and legal documents; establishing training programs to franchise your business successfully and execute the productive system.
It may seem like a lot, but –as Henry Ford said- getting ready is the secret of success.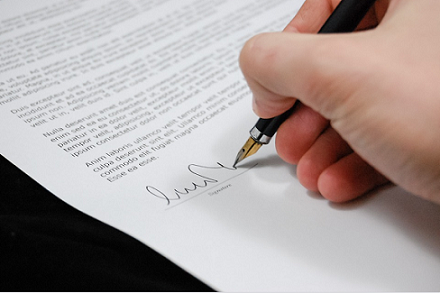 2. Don't short cut the legals  
Scaling through franchising begins by performing all the necessary bureaucratic procedures to ensure that the business remains legally compliant when expanding to new territories. Whether you are planning to expand regionally or internationally, it is likely that you will encounter new legal requirements governing your relationship with franchisees and franchise candidates. This is in addition to other legal regulations that may impact on your business, such as labor laws, product safety mandates, or environmental laws.
There is no uniform international franchise legislation. Therefore, you will need to research the legislation in your target territory and ensure that your franchisee recruitment process, finance, and payments structure, and written agreements are compliant. In this post, attorney Mark Abell beautifully explains the ins and outs of international franchise regulation and the requirements to start a franchise.
To make sure you franchise your business successfully and have no legal issues during the process, international lawyer and creator of the "90 Day Franchise Launch Program," Charles N. Internicola, believes that "you need an experienced franchise lawyer" that understands how to operate a franchise and "who will work with you and put together and implement a plan for launching the business".
3. Define the values & essence of your brand
The franchise brand is a promise to your customer: it indicates what they can expect when entering one of your establishments or purchasing one of your products. The brand characteristics must be well-defined when franchising your business, as it's the value that sets you apart from the competition.
Amit Kleinberger, CEO and Founder of MediCi The Neapolitan Pizza Company, explains that when he started his franchise business in 2015 he wanted to "bring this unique cuisine to guests in an original way that preserved the flavors, passion, process, history, and essence of Neapolitan pizza", he explains. "Our mission is to bring friends together. We've created a pizza franchise opportunity with visual appeal and a warm, inviting atmosphere to encourage guests to connect, socialize and enjoy the moment".
Kleinberger's statements are a good example of what makes a good franchise owner: establishing distinctive brand values that emanate a sense of belonging to the customer and create trust and confidence. In the long run, transmitting these feelings is the key to achieving the trust of the target audience you intend to capture and, consequently, increase revenue.
Each franchisee must be able to offer a consistent brand experience, so effectively communicating these values is critical. Franchisees' performance can have a positive or negative influence on the entire chain, and their ability to foster your brand values with customers depends on your ability to distribute the appropriate information. Once you are satisfied that you know your brand values, the next step is to start documenting and communicating them.
4. Document your main processes and operating procedures
Develop an operations manual that serves as a reference for franchisees on all the processes about how to operate a franchise, product information, activities and roles that make up the chain. Franchise consultant Alan J Gibson believes that creating "a clear and impactful plan makes a massive difference to achieving this. With a great plan, you can engage others with a sense of direction and purpose, align all activities and review progress."
These manuals used to be dust collecting paper tomes… but with the development of new cloud-based software, it is becoming easier to create dynamic and attractive online content for franchisees.
The more varied, interactive and visually appealing the content is, the more motivated each employee will be to read it and this will increase the chances of your instructions being transmitted efficiently and acted upon.
For example, course software enables you to include flowcharts, images, mind maps, quizzes, and videos to enrich each employee's learning experience.
The Irish Franchise Association's "Issues to consider in franchising a business" highlights the main areas that need be documented and communicated to franchisees: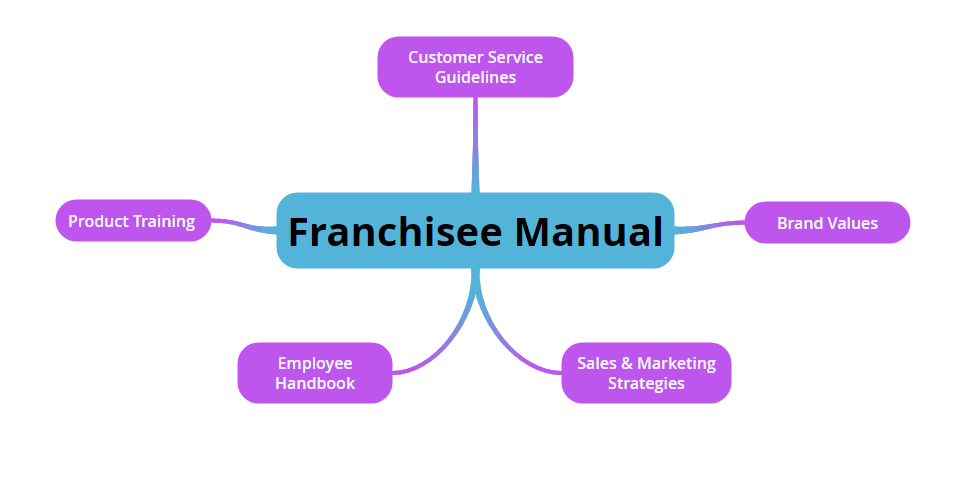 5. Train and evaluate franchisees… constantly!
Once you have the manual prepared and complete, you must be able to convey the know-how and properly train each franchisee. As the franchise owner, you probably feel the need to control and track these processes; however, you may encounter a simple impediment that is difficult to solve: distance. The fact that you may have several franchisees thousands of miles from each other complicates knowledge transfer and makes appropriate training on brand values and behavioral guidelines more challenging.
But don't worry… all franchisors have faced this dilemma, even the most recognized in the world.
Subway, the world's largest franchise, struggled to implement employee training for different franchisees, as they had "operational problems in ensuring that each franchisee applied the guidelines set by the executive board". This inconvenience revealed the company's "biggest challenge": "to ensure the consistency of the quality of our product through appropriate and effective training," explained Fred DeLuca former CEO.
To solve this, Subway utilized new technologies to "foster improved communications and hence better relations with franchisees". A good example of a successful franchise story: through the use of software, each franchisee's training improved and the problems they had in transmitting the guidelines from headquarters reduced significantly.
Using the right software tools can make franchise training more accessible and simple. However, make sure you consider the following points to make the staff learning process as enriching as possible:
• Concise: studies indicate that between 15 and 30 minutes is the right time for a learning session
• Continual: to franchise your business successfully, you must be constantly evolving to adapt to market flows and ongoing training so that franchisees will maintain consistent quality even as day to day operations or products change.
• Feedback: offering feedback from training and assessment is fundamental to solve any doubts that the staff have and identify problems that may exist in the field.
6. Creative and consistent marketing strategy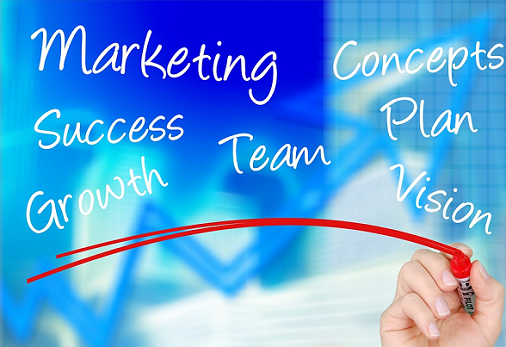 Developing an advertising strategy that is in line with your brand's distinctive values (see step # 3) and that generates interest on the part of the public is one of the final steps to franchise a business successfully… but not the least important! There must be consistency in the promotional message, digital marketing campaigns, and written advertisements; the key is to offer original and creative content that catches the eye with a similar editorial line.
Brian Niccol, CEO of Taco Bell, proposed a subtle change in the brand's message that coincided with an increase in company's revenue: he changed the company's slogan from "Think outside the bun" to "Live Mas". "Just by changing a few words, the company repositioned itself from food is fuel to food is an experience, which has since been a rallying cry for innovation", he said.
The Taco Bell case is a good example of the influence that marketing has on capturing potential customers and making a dent in the market; especially in franchise chains, where the message that the brand transmits ends up impacting all franchisees.
There are more and more ways to promote the product or service of your franchise; social networks, for example, are an essential environment to have a direct relationship with your audience and interact regularly with them. Through them, you can create brand awareness, increase traffic to your business website, attract users who haven't heard of your brand, and identify potential problems with the franchisees that consumers have and find immediate solutions.
By following these steps, you will be able to start the process of franchising your business with greater security and you will be prepared to solve any management difficulties with your franchisees.
At GoConqr, we make it easy for franchisors to create and distribute engaging learning content and learn how to operate a franchise. If you have any questions or are interested in some of the tools we have mentioned, do not hesitate to contact our team.